An awareness team comprising of Ministry of Gender, Children & Social Protection, National Elections Commission (NEC), Liberia National Rural Women Structure, Women NGO Secretariat (WONGOSOL) and COPWILL has departed Monrovia for Southeastern Liberia in continuation of a nationwide Women, Let's Move! #Caravan
The Caravan is being organized under the auspices of the Ministry of Gender, Children and Social Protection in collaboration with partners with the goal of promoting women's political participation and representation.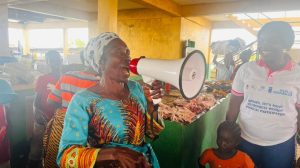 The awareness team is expected to engage with a cross-section of women ranging from traditional leaders, women political aspirants, youth and community leaders as well as rural women structures including market women amongst others.
The nationwide awareness campaign, which is at its final stage, is being initiated with support from the #PeaceBuilding Fund through UN Women and UNDP.
The women political participation awareness' campaign is also intended to encourage traditional leaders and citizens to elect women to key decision-making positions across Liberia. Already, a technical team comprising of key stakeholders is heading for the southeast to complete the last region and climax the awareness campaign. The Women, Let's Move awareness campaign got underway last November following its official launch in the port city of Buchanan, Grand Bassa marking the beginning of Region I.
Region I campaign covered Grand Bassa, Montserrado, Bomi, Gbarpolu and Grand Cape Mount counties respectfully, while Region II featured Lofa, Bong, Nimba, Grand Gedeh and Margibi Counties.