Madam Bintia Stephen-Tchicaya, FAO Sub-regional Senior Policy Officer for West Africa and FAO Representative Ad Interim for Liberia on Wednesday, June 14, 2023 paid a courtesy visit to the Ministry of Gender, Children & Social Protection.
The FAO Senior Regional Executive reaffirmed her institution's support to the Ministry of Gender and highlighted the importance of a renewed and stronger collaboration. The meeting was meant also to promote cordiality and recognize the important role of each institution.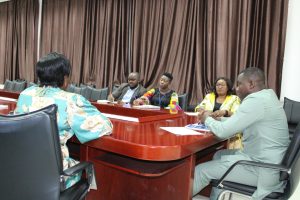 For his part, Acting Minister, Hon. Hassan Karneh, welcomed the FAO Senior Executive and applauded her for conferring with the Ministry of Gender, Children and Social Protection. Acting Minister Karneh also praised the FAO's for its renewed commitment and assurance to support Social Protection programs as well as medium skill empowerment for women and girls.
At the same time, Hon. Karneh thanked FAO for the longstanding partnership with the Ministry, and therefore, reaffirmed the Ministry's readiness to work along.