Gender Boss Makes Representation At Global Forum For Adaptive Social Protection.
~Protecting Lives And Livelihoods In Times of Crisis ~
Gender Minister, Hon. Williametta E. Saydee-Tarr has represented Liberia at the just ended Global Forum For Adaptive Social Protection.
The Global Forum provided an opportunity for policymakers, practitioners and social protection experts to jointly examine and discuss the scope and potential of Adaptive Social Protection (ASP) to foster resilience and promote adaptation.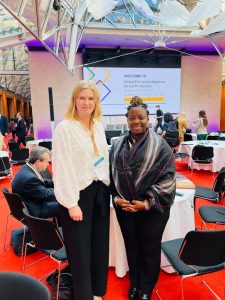 It was focused on ASP's four building blocks – programmes, data and information systems, finances and partnerships. The Forum aimed at strengthening alliances for the expansion of social protection to more people around the globe.
In remarks, Minister Saydee-Tarr said that the system will only work it is of the people and for the people. The Gender Boss indicated that "in the end, local ownership is the goal and digitization is the best method."
Social protection systems face an unprecedented challenge as they support households to prepare for, cope with and adapt to these multiple, overlapping crises. The demand for social protection has never been greater. Neither has the urgency to learn from others' experiences. The forum lasted from June 13-15, 2023, in Berlin, Germany.