Liberia's delegation successfully climaxed a two week exhaustive conference on the Commission on the Status of Women (CSW) at the United Nations Headquarters in Manhattan, New York, USA.
The Commission on the Status of Women evaluates progress on gender equality, identify challenges, set global standards and formulate concrete policies to promote gender equality and advancement of women worldwide.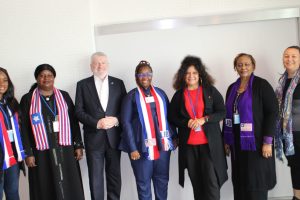 This year, the 67th edition of the CSW was hinged on "Innovation and technological change, and education in the digital age for achieving gender equality and the empowerment of all women and girls."
Gender, Children and Social Protection Minister Williametta E. Saydee head of Liberia's delegation outlined progress the Government of Liberia headed by the Feminist-In-Chief H.E. Dr. George Manneh Weah has made in this ever changing digital age. She informed the conference that Liberia uses digital financial platforms, such as mobile money and 24-hour call centers to ensure that women and girls have access to finance and help against Sexual and Gender-Based Violence.
The mobile money platform is used to pay salaries and other financial benefits to public sector workers and transfer cash to beneficiaries of the Liberia Social Safety Nets Program, which supports vulnerable households, particularly female-headed households.
"There are frantic efforts to use digital platforms and technology to improve agricultural development and women's access to markets and credit facilities, as well as access to energy, learning opportunities and disaster risk management through the ongoing implementation of the 'Liberia Women Empowerment Project', a 44.6-million-dollar project approved by the World Bank in 2022 to comprehensively support women's economic and social empowerment in Liberia," the Minister averred.
"Already, Liberia is working with relevant partners to ensure that women fully participate in Liberia's transition from manual registration to a digital registration system using biometrics and not just as voters but also as candidates during this electoral year," she added.
Minister Saydee-Tarr campaigned for increased support to address violence against women, particularly online violence against women candidates by building the capacity of grassroots leaders and organizations to change attitudes and behavior towards women, their values, roles, and responsibilities.
At a side event organized by the World Health Organization (WHO) and co-hosted by Liberia and The Gambia on the innovations in the prevention and control of Non-Communicable Diseases especially among women and girls – Gender Minister Saydee-Tarr told delegates from across the world that the use of Digital Health in Liberia is still being piloted but is helping to improve efficiency in reducing the timespan and boosting the accuracy of health interventions, enhancing communication and trust between patients and health workers and improving timeliness and accuracy of health reports.
For her part, Liberia's First Lady Amb. Clar Marie Weah highlighted efforts by her office through the "She's You Movement" to ensure that girls and women in Liberia have greater access to healthcare, addressing issues of gender disparities and inequalities.
The First Lady believes that effectively devising strategies that seek to address non-communicable diseases would definitely make a difference and improve the well-being of our people while pushing development, something Liberia is committed to doing in tandem with Target 3.4 of the SDGs.
She asserted that Liberia is pushing hard in this area because Non-Communicable Diseases have implications and affects the environment, education and the nutritional health of the people.
During the two weeks conference which ran from March 6-17, 2023, Liberia hosted her side event tagged "Pathway to Eradicating FGM in Liberia: An Intentional and Participatory Process."