What appeared to be a milestone progress in abolishing all forms of traditional practices in central Liberia recently occurred in Gbaota town, Bong County, where women master zoes in a huge number handed over their tools and other utensils reportedly used for the practices of Female Genital Mutilation (FGM).
Bong County is the latest county to unanimously agree and commit to abolish the practices of FGM, joining Montserrado and Grand Cape Mount counties respectively.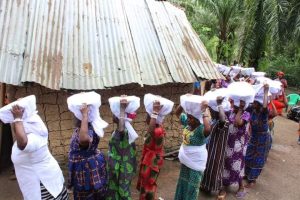 The turning over ceremony was attended by a cross-section of local and international partners, Government's representatives as well as Liberia's Cultural Ambassador, Juli Endee.
The turning over ceremony will be followed by other alternative livelihood programs that would be used to empower the women Zoes.
The ministry welcomes the latest decision of the women and promised to keep engaging local and international partners in ensuring that the livelihood programs are prioritized.
At the same time, MGCSP extends special commendation to President George Manneh Weah for exerting the political will in making sure that such harmful traditional practices are abolished.
The Ministry further thanked UN Women, the Swedish Embassy, the European Union (EU) and other local campaigners for their overwhelming support in ending FGM in Liberia.