At a well-attended ceremony held at the Fish Town Administrative Hall, Madam Veronica Tanyon, the Coordinator of the Ministry of Gender, Children & Social Protection assigned in River Gee County, was appreciated by the ministry.
Madam Tanyon, one of the long service Gender Coordinators, was presented with a Certificate of Appreciation as well as a bag-of-token in appreciation of her long service to the county and country at large.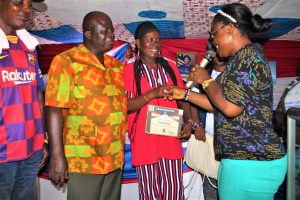 Presenting the certificate, Hon. Williametta E. Saydee-Tarr, Minister, Ministry of Gender, Children & Social Protection – Liberia highlighted the long years of service and contributions of Madam Tanyon to the Ministry. "Thank you for the inspiration, motivation, and encouragement you've given throughout the years to your county and country. We know you will continue to inspire us for many years to come."
In response, Madam Tanyon thanked the Ministry for the recognition and promised to always render support when needed. She pledged her continuous commitment in giving back to the works of the ministry in whatever way possible. According to the outgoing Gender Coordination, the long service she provided was a national duty and therefore, she is willing at all times to provide guidance to those who will follow in her stead.
Earlier, Superintendent Philip Q. Nyenuh praised Madam Tanyon for the level of cordiality. He further recognized her long years of service as well as outstanding contribution to the country. The ceremony was attended by several women groups from across the county.