On the occasion of commemorating MHD, Minister Williametta E. Saydee-Tarr said menstrual hygiene is essential to girls and women's health and well-being. She urged young women and girls to break the stigma by being open and positive about their health issues.
World Menstrual Hygiene Day is a global event observed annually on May 28th to raise awareness about the importance of menstrual hygiene and break the silence and stigma surrounding menstruation.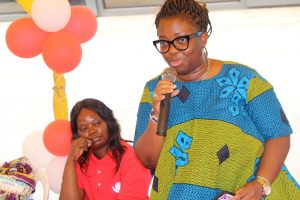 The day was established in 2014 by the German-based NGO WASH United, International Menstrual Hygiene Day aims to create a world where every woman and girl can manage her menstruation hygienically, safely, and dignifiedly. Since its inception, this day has grown to include various organizations, governments, and individuals worldwide, all working together to advocate for menstrual hygiene and break taboos.
In Liberia, the MHD was observed under the supervision of the the Adolescent Girls Unit at the Ministry of Gender, Children & Social Protection with support from partners.
The 2023 Menstrual Hygiene Day was celebrated under a global theme "Making Menstruation a Normal Fact of Life By 2030." The overarching goal is to build a world where no one is held back because they menstruate by 2030.