Mrs. Williametta E. Saydee-Tarr, a consummate well rounded professional of over seventeen (18) years of senior managerial proficiency with expertise in Social Policy, Advocacy, Communications, Business and Non Profit, currently serves as the Republic of Liberia's Minister of Gender, Children and Social Protection.
As an ardent advocate for women, children, youth, and the rights of the vulnerable, she has maximized the opportunity to leverage her multi-talented skills of working with diverse groups, while being self-motivated and result-oriented even at the level of the Government of Liberia's Executive Cabinet.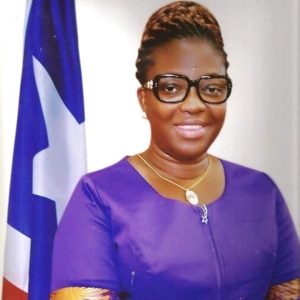 With a background in Restorative Justice and Advocacy, she has unique abilities to contribute immensely to the government's national and international advocacy efforts, given her decade of work as an African community advocate in the Diaspora with immigrant families and, similar work at home in Liberia.
Since her appointment in January of 2018 by His Excellency Dr. George Manneh Weah, President of the Republic of Liberia, to serve as Minister, she continues to work wholeheartedly ensuring that work implementation, staff, and organizational growth, and sustainability of impactful high performance, particularly in a fast paced "Pro-poor Governance" Policy environment can be achieved and sustained. Key among her many achievements and accolades, she provided leadership for the successful mainstreaming of gender in the country's development plan, the Pro-poor Agenda for Prosperity and Development (PAPD), which was recognized for one of the world's most gender-friendly development plans.
As an achiever, she solicited the support of the President of the Republic of Liberia and Cabinet in ending Sexual and Gender-Based Violence (SGBV) as she successfully organized a National Conference on SGBV bringing together all gender-actors through which the "Government of Liberia & Partners' Anti-SGBV Roadmap" was developed, endorsed and now being implemented. She has also been instrumental for Liberia to pass the Gender in the Economy indicator of the Millennium Challenge Corporation Compact from the 50th percentile last year to the 81st percentile this year due to the passage of the Domestic Violence Law and impactful achievements of other gender-related activities and engagements.
Her intentional and purposeful work to fight SGBV has ultimately been noticed by local and international partners alike, thus enabling her to clinch the United States government's #WomenOfCourage 2021 award through the US Embassy accredited near Monrovia. She remains firm in purposefully and positively changing the dynamics of social protection via cash transfer and accompanying measures to have a sustained socio-economic benefit to the vulnerable and elderly; thereby, changing the status quo.
Before serving as the Minister of Gender, Children and Social Protection, she began her public service duty with the Liberia National Police and then moved on to the then Liberia Telecommunications Corporation (LTC), before traveling to the United States of America to complete her college education. Between 2005 and 2011, she returned to Liberia as a female actively participating in politics.
In 2012, she relocated to Liberia to serve as the founding Executive Director for the Gbowee Peace Foundation Africa (GPFA) where she effectively fundraised and coordinated worldwide scholarships for women and girls, raised awareness on issues of gender equality and equity, ensured capacity building and development of women and girls, and forged and nurtured strategic partnerships. She successfully instituted the Foundation's granular level approach for local communities to keep safe during the EBOLA crisis, before moving away from being a civil society actor into a full political life.
Minister Tarr holds a Master Degree in Advocacy and Political Leadership from the University of Minnesota in Duluth, Minnesota, a Bachelor of Arts Degree in Communications Studies from the University of Saint Thomas in St. Paul, Minnesota, and an Associate of Science Degree in Business Management from the Minneapolis Community and Technical College.
She is committed to attaining excellence for which she continues to gain admiration and respect from her colleagues and Development Partners alike; she remains very passionate about the rights and well-being of the underprivileged, the vulnerable, the youths, and most especially the women and children of Liberia, who ultimately are the most vulnerable members of society.
Minister Tarr is happily married to her partner of 16years, and she is a very proud mother of two children.