The Human Resource Division of the Ministry of Gender, Children and Social Protection on last Thursday, concluded a one-day HR and staff interactive meeting with focus on promoting professionalism and cordiality amongst workers, as well as addressing employees' constraints at the ministry.
The in-house gathering was the second in a space of few months to have been organized by the Human Resource Division as a way of updating staff of their statutorily required duties/roles as regards the standing order of the Civil Servant Agency (CSA), and other opportunities available to employees.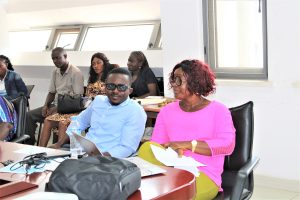 In opening, Adama B. Corneh, Administrative Assistant in the office of the Assistant Minister of Administration (AMA), thanked the HR Division for reconvening the HR & Staff Interactive Meeting, adding that it was expedient and timely particularly in addressing some of the emerging concerns of the staff.
Corneh used the occasion to admonish employees to take advantage of the gathering as it was meant to promote a conducive working atmosphere.
Providing an overview of the meeting, Assistant Director, Human Resource Department, Katherine Sawyer Tarley reminded employees about the importance of the HR and Staff Meeting. Assistant Director Sawyer-Tarley reechoed that the meeting was organized to once again reassess and promote a conducive working atmosphere as well as providing a space that allow feedback from workers regarding issues they have been confronted with.
The meeting additionally provided an opportunity for staffers to seek further information on other regulations that promote professionalism and good behavior at the workspace.
Employees were also encouraged to use the gathering as a medium to directly interact with the department as a means of acquiring meaningful data that would support their level of professionalism, effectiveness and proficiency at the workspace.
The gathering which brought together employees from all departments, divisions and units also highlighted the issue of employees' welfare.
In that direction, an Eco Bank representative was present and provided updates on the bank's benefit packages for GoL Employees which amongst other things include loan for long and short terms respectively.
In separate remarks at the close of the meeting, employees called on the HR Department to ensure that such gathering is regularly hosted so as to give them to have an exchange with their department.
Meanwhile, the Human Resource Department has assured employees of the ministry of plans to continue with a quarterly HR & Staff interactive gathering. The division at the same time reiterates call for cordiality and ethical workspace, thereby urging employees to take advantage of available CSA's regulation in addressing issues that affect them at the workspace.