The Ministry of Gender, Children & Social Protection – Liberiaion (MGCSP) on Tuesday, March 21, 2023, joined the National Association of Social Workers of Liberia (NASOWL), and partners in commemorating World Social Work Day.
The day's celebration commenced with a parade through the streets of Sinkor to the campuses of the University of Liberia (UL)) where an official indoor program was held.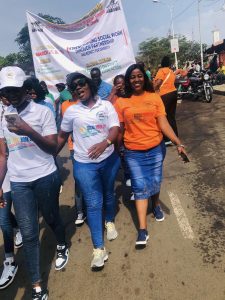 Several staff of the Ministry of Gender, Children and Social Protection who are also members of the National Association of Social Workers of Liberia (NASOWL) were integral part of the day's celebration.
Speaking at the official indoor program, Deputy Minister of Children and Social Protection, Hon. Lydia Sherman, applauded social workers for the many sacrificial services rendered across Liberia and also urged them to remain committed to the endeavor. She indicated that social work is a humanitarian and service profession that is not for profiting.
Dep. Min. Sherman encouraged the practitioners to uphold the standard of the profession by continuously observing all the professional values that regulate the sector. At the same time, she conveyed the Ministry's appreciation to the National Association of Social Workers of Liberia (NASOWL), local and international partners for the unflinching support towards the upkeep of social services in Liberia.
She reassured the Ministry's commitment to improving the wellbeing of social workers as well as continued engagements with relevant stakeholders for the betterment of social services across Liberia.
Every year, World Social Work Day is celebrated across the world on the third Tuesday of March, and events are organized throughout the month of March to celebrate, memorialize and recognize the tireless commitment and devotion of social workers.
This year's celebration was held under the Global Theme 'Respecting Diversity through Joint Social Action' while Liberia commemorated the day under a local theme "Strengthening Social Work Through Partnership And Respect for Diversity."
The day is an opportunity for social workers and others in the social service sector to celebrate their achievements as well as to raise awareness and support for the important role that social workers play in the lives of children, families and communities facing adversity. The day calls attention to the need for further planning, development and support to the profession and social service sector.