The awareness team of Women, Let's Move #Caravan, an ongoing nationwide campaign promoting women's political participation and representation, has kickoff its outreach activities in the southeast.
The team comprising of Ministry of Gender, Children & Social Protection, National Elections Commission (NEC), Liberia National Rural Women Structure, Women NGO Secretariat (WONGOSOL) and COPWILL departed Monrovia for Southeastern Liberia recently in continuation of Region III Women, Let's Move! #Caravan.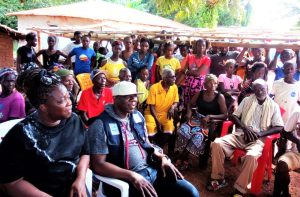 The #Caravan's delegation headed by Minister Williametta E. Saydee-Tarr was greeted with a rousing welcome from a jubilant group of women comprising of local women leaders, students, women political aspirants amongst others.
The nationwide awareness campaign, which is in its final stage, is being initiated with support from the #PeaceBuilding Fund through UN Women and #UNDP.
While in the Southeast, the awareness team is expected to engage with a cross-section of women groups ranging from traditional leaders, women in politics, youth and community leaders as well as rural women structures including market women amongst others.
This massive women's outreach campaign sets the stage for reviewing and understanding the ongoing Electoral Law Reform and particularly the issues of advocating for electoral quotas for women.